Sally Madge: Return To Sender
This installation forms part of the Shelter project, which centres on a small stone hut built originally as an anonymous, unofficial artwork in 2002 on the northern shore of Lindisfarne. Over the years, the shelter's interior has been embellished in increasingly elaborate and imaginative ways by its builders and large numbers of visitors using found and manufactured items. Many of the results have been salvaged and archived, including after the shelter's destruction in 2009 and last December when a tidal surge partially demolished it, and again following a fire there in August of this year.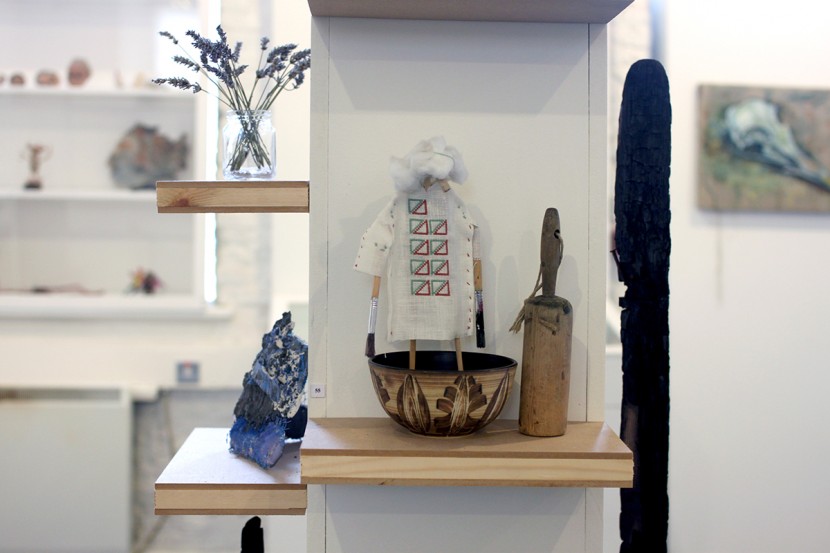 The pieces displayed in Return to Sender include items created from a beach combing and litter picking event held on Lindisfarne in July. Linked to Berwick Film Festival's theme of 'Border Crossings', the exhibition's title refers to the fact that much of the flotsam and jetsam washed up on the shores of the island is carried there by tidal currents from various places to the north, including Berwick and the Scottish Borders. The installation thus returns some of this material from whence it came, exhibited as transformed items including sculpture, assemblage, video, film, photography, film props, writing and recorded events. Also on display is the costume from the film Granfer, shot on location on Lindisfarne for Berwick Film & Media Arts Festival and showing at Coxon's Tower on the town's mediaeval ramparts from 18th to 21st September. Artworks are on display by collaborating artists as well as artefacts generated from a postal art project, where packages containing beach items were sent to, transformed by, and received back from a range of recipients, including visual artists, children, designers, scientists, writers, musicians and others. An intervention in Berwick Museum's Burrell Collection is also part of the installation.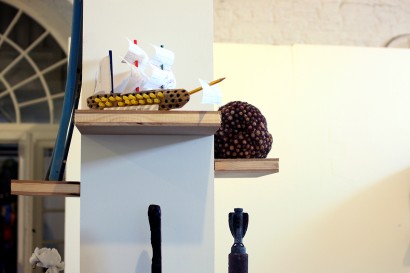 The gathering of materials used in making the work on show could represent a kind of lowbrow archaeological excavation of objects which might normally be considered merely the detritus of consumer society, for example, such that many would not expect it to form the basis of either a museum display or media for artistic manipulation. Likewise, the richness and variety of the shelter's internal decor resulted from types of activity which even many of those responsible may not necessarily have interpreted as creative, let alone as 'art'. Return to Sender and the Shelter project therefore raise many questions, such as: What is judged to be of 'value' or to have 'worth'? Who is deemed capable of engaging in transformative practices and pronouncing on the outcomes? Which enterprises enter the public realm, official discourses and the historical record as significant, important and meaningful events? Finally, who benefits or profits, and how, from such endeavours?
Sally Madge – September 2014